"Lollirot">> Lip Shine
I use a Solid Circle Brush, at around 1 - 3 px size.
Certain locations on the lips - will fog and blur strange due to the mesh,
not the work you do.
I suggest first softly stroking a 20% Strength Dodge of 5px
Soft Brush along the area of the lip where it will have shine.
Only enough to have a basis, not enough to show drastically.
Do the same with the Burn Tool.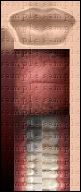 Then use the smaller brush I first listed to mark in white.
Smudge tool that a bit as needed, keep it generally thin.
Then duplicate the layer and set it to Soft Light.
Move it a little to one side, and a little down.
So it shows beside the already white areas.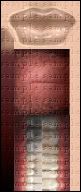 Other then that - it is all trial and error.
( If anyone steals my Lips shown here - I will DMCA you so fast your grandmama will yelp: "SHAME!" )
Edit
; Since NO ONE bothered to read this I made it nice and big.
Drawing the SAME shine stroke for stroke as me COUNTS AS THEFT.
DON'T. FRIGGEN. COPY. MY. LIPS.
There is a BIG REASON no other Devs would help people with lipgloss.
NO ONE HERE IS TRUSTWORTHY. We get used when we help. :|